review
Rapid Café - humble Japanese deliciousness
• By Tuan Nguyen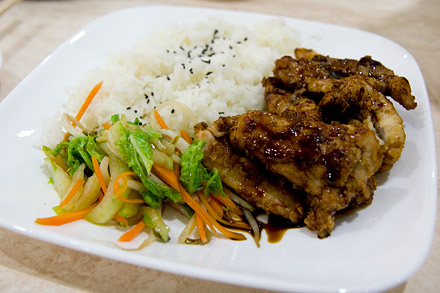 Japanese food in Darwin is unfortunately limited to 2 and a 1/2 sushi joints, so I was delighted to stumble upon a little Japanese cafe at Rapid Creek Shopping Village. I'm not sure how it escaped my Asian-Eat-Radar for so long but it's been open since December and although initial impressions suggest dodgy and health compromising, you'll soon find out that this is far from the truth. Nothing is over $10 as advertised and they have sushi as expected as well as a selection of traditional Japanese comfort food. We had a tuna and corn sushi roll to start, which I consider to be a rather plain sushi to be honest, however I was pleasantly surprised at how much flavour it had. We got there early so our main meals came quickly and piping hot. For the main I had the chicken and egg rice bowl while Jenny and my brother had the teriyaki chicken bento.
I love simple and fresh food with natural flavour and thats exactly what I got. Jenny's chicken teriyaki had me drooling so I couldn't refuse a bite when offered. Oh man, what a taste sensation. A little bit of crunchiness on the outside with chicken pieces that were unbelievably tender, this was definitely a quality rendition of a classic dish and dare I say probably the best teriyaki chicken I've tasted ever.
The service was very good as to be expected of the Japanese. The rest of the world has a lot to learn in terms of customer service. I assume it was a husband and wife team operation with the former cooking up a storm in the back and the latter literally running around doing her best to keep the customers happy. Her service was so warm and friendly, making the meal that much more enjoyable. Good service goes a long way in my books. I've been there twice in two weeks and the only reason I didn't go this week just past was because some crazy lady ran into the back of my car and nearly killed me. Totally her fault by the way. Anyway I digress. If you're after a no fuss, yummy and cheap food joint, then definitely check out Rapid Café.